Gordon Blair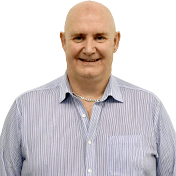 I trained with Bruce to become a trainer of instructors and would highly recommend him to anyone who is looking to become who is looking to get into this industry. Bruce's easy going and nature and sense of humour made the sessions so much better than I had envisaged. Bruce's knowledge of and experience of training Instructors helped make it a pleasure although it might not have seemed that way to him from me.There were times I doubted myself whether I had made a the correct choice in training for ORDIT but with Bruce's motivation, continued support and his ability to see potential in me thankfully they weren't misplaced and I was able to achieve this goal. While training I suffered a huge loss and Bruce was there for me in a way I can only say a big huge thank you to him for his support. He was always on the end of a phone. I regard Bruce's training methods second to none and also class him as a good friend and would highly recommend him to anyone wishing to become a Driving Instructor or ORDIT training.
David Mitchell - ADI ORDIT Trainer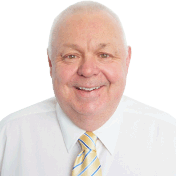 Bruce and I first met after I had a poor first attempt at part 3. He worked me hard and guided by him and his skill to motivate me I achieved my ADI qualification. Bruce believed in my abilities and was supportive of me when I was put forward as an ORDIT trainer. We covered many miles and I had a few sleepless nights as I went through part 2 which turned out as more of a struggle than I anticipated, but finally I achieved that phase.Part3 ORDIT had its own challenges but with Bruce's encouragement and support I passed first time. I regard Bruce as a first class trainer and mentor and also a good friend who is never more than a telephone call away. I cannot thank Bruce enough for his patience and belief. I would wholeheartedly recommend him to anyone who wants the challenge of being an approved driving instructor or an ORDIT trainer.
Michael McEmerson

It's that time, and I have completed my driving instruction course and proud to become an ADI!. Learner Driving Centres not only equipped me with the materials needed to complete my course, but the depth and detail put into these materials helped me to understand fully with ease what was required of me to pass and become a fully qualified ADI. On a practical note I was put through my paces in training on a one to one basis with my mentor Bruce McNeil, which I must add had some sneaky tricks up his sleeve to help get the best out of me.
Training became very simple to follow with this, and was layed out by Bruce in a manner that was very easy to understand, which in turn made it all the more enjoyable for myself. Without the push and drive from Bruce I may still be on my practical sessions today, therfore still have an exam to face!. He was able to find other suitable PDI's for me to work alongside and train outwith LDC hours. I eventually took advantage of these great opportunitys and very quickly came across the positive side to it. It not only helped me on a massive scale in terms of confidence, but also brought other PDI's to realise this also, which again in turn was advantagous to them too.
So not only was Bruce able to direct me in training hours but also showed me that if I worked hard away from training then I would reep the benefits from that. Now that im sat here as an ADI I can really relate to that and i'm so greatful for Bruce introducing that to me. Bruce was very kind in introducing me to instructors within LDC that were training for ORDIT, and had me do some additional free training with them which once again had myself and the instructor gaining valuable experience and training skills. Questions I ever needed answered from Bruce became easy to understand as he would take a great deal of time explaining in depth to me what was required.
Overall I am so very pleased with all the training i received. I couldnt have asked for a better trainer than Bruce McNeil. I hope to continue the fantastic relationship we have and look forward to working with him in the near future. I owe alot to bruce and LDC for the fantastic support and training i endured, and will most certainly recommend to anyone I know thinking of taking up this course that there is only one place to do that, and that is with LDC!!.
Iain Fleming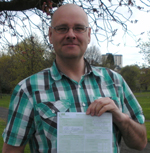 Having done a lot of research into the ADI training companies in the Glasgow area, I decided to train with LDC in 2010 to help me achieve my goal of becoming an ADI.
I found training for Part 1 to be very extensive and felt thoroughly prepared for sitting this part of the qualifying exam which I am happy to say I passed first time with a 100% score in the multiple choice section.
Practical training for Parts 2 and 3 were of exceptional quality and I found my trainer Bruce, to be very knowledgeable, patient and encouraging and always put me at ease during our training time together, qualities that as a qualified instructor I believe are important whilst teaching learner drivers. So I can say from experience that LDC really does "practice what they preach!"
The excellent training I received from LDC was instrumental in me passing both Parts 2 and 3 on my first attempts with a score of 5/5 on Part 3, something I am very proud of.
Having trained with LDC I would recommend them to anyone considering becoming as an ADI, you will receive some of the best training around and will be well prepared for the real world of teaching learner drivers on today's roads. LDC helped me on my journey to becoming a qualified ADI enabling me to instruct with confidence and professionalism.
Tom Morrison

I trained with Bruce to become a trainer of Instructors and would highly recommend him to anyone looking to get into the driver training industry. His easy going manner and sense of humour, coupled with his vast experience in training instructors helped make every training session as much fun as it was a learning experience. Having already qualified as an instructor, I was well aware of the work required of me to get through my training, but Bruce was able to make things seem so much more simpler than they appeared to be at first. Bruce would highlight any weakness I had. discuss with me why it happened and how I could have done it more effectively, then guide me through practice to help me improve. As each session passed I found myself increasing in ability, understanding and more importantly, confidence. There were times when I would feel out of my depth but these were quickly quashed by Bruce's timely motivational discussions, that always brought a smile to my face and resulting in me raising my game. I passed both ORDIT exams easily, thanks to Bruce's training and I am now very confident that I will go on to become a trainer that he can be proud of.
If you are reading this and considering Bruce as your trainer then give him a call, you've nothing to lose.
Susan MacFadyen (West Kilbride)


Once I made the decision that I wished to train as a driving instructor, I under took the huge job of finding an appropriate training company. I looked at numerous companies; however for me "Learner Driving Centres" (LDC) stood out from the crowd. I was not to be disappointed.
The training I received from my local tutor, Bruce McNeill was first class. He is very through in his job; no little detail is left to chance. I passed part 2 on my first attempt and part 3 on my second attempt, although in hind sight I had all the skills to pass part 3 first time.
Bruce's help & expertise hasn't stop on qualification, he is now just a phone call away, always willing to help no matter how small or large the query I have.
If you wish to train with the best then you won't go wrong with Bruce McNeill & LDC.
Steven Porter
I was forwarded onto Bruce by a friend who had previously trained with him. He convinced me I would be able to pass the tests to become an A.D.I. I managed to find the balance right in February 2008 and passed after 11 months of training, 8 of which was with Bruce.

I found Bruce a very pleasant, easy going and very knowledgable guy. My training with him was always light hearted and enjoyable, but at the same time, it was always testing and made you think about different ways to word and time your talk throughs.

Over two years later and running my own school, I can safely say anytime I need advice or a friendly ear to talk too, Bruce is always there with the right advice. Comes very highly recommended from me, not only as a trainer but also as a friend.
Iain Stephenson - LDC Instructor Nov '09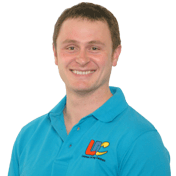 Bruce's relaxed training style combines very well with the demands of the PDI training course.
Although there was a lot to learn and practice Bruce was always encouraging and I feel that I benefited from his guidance in every session. Bruce has no problems finding different ways to explain or describe the topics so he always gets his "Light Bulb moment".
This ability comes from the experience that he has picked up over many years at the top of his game.
The LDC PDI training course was very thorough and prepared me well for all parts of the ADI qualifying process. (Well above the standard that was required.)
Now I have qualified, and am using the LD System daily, I can see and feel the benefit of the hours spent training in the car.
I look forward to a fun filled career working along side Bruce and the other LDC instructors in the years to come.
Call today on 07976 748836 or Email me to find out more
If you have any questions or to book lessons today, feel free to contact me