LDC History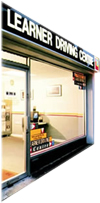 Learner Driving Centres (LDC) was first established in 1987 and was later acquired by Teaching Driving Limited in 1991. LDC at this time operated in a similar manner to BSM with high street shops and the instructors were charged a high weekly fee, making it difficult for them to earn a good income.
As a result, keeping instructors was very hard and for each new instructor gained we would often lose an existing one. This approach was seriously flawed and LDC went about developing a whole new driving school package for its instructors that put them in control and enabled them to earn more than with any other driving school or indeed when operating on their own. The approach LDC developed was quite unique at the time. It is only recently that the other two major driving schools in the UK have taken note and adopted one or two of the ideas we pioneered.
LDC was also the first driving school to develop a sophisticated structured training system for learner drivers, incorporating a programme of carefully planned driving lessons with clear targets, modern teaching methods and innovative home study training materials, that resulted in more actual practice time in the car and better prepared learners. This in turn resulted in learners making more rapid progress and passing in far fewer driving lessons. Whilst this new approach proved very popular with the public, the instructors whom LDC recruited at the time did not like the organised manner of the lessons, the ease with which learners could track their own progress or the reduction in driving lessons needed to pass the test. It soon became clear that it was better to train new instructors from the beginning rather than try to convert existing instructors who were set in their ways. As a result LDC decided to invest in the development of top quality driving instructor training, not unlike its training for learner drivers, to overcome this early set back.
Thus the innovative driving school package, along with the unique LD tuition system and state-of-the-art training resources for learner drivers, has helped to make LDC one of the most successful driving schools in the UK today. The other major ingredient to our success is, of course, our highly motivated and skilled driving instructors, most of whom trained and qualified with us. LDC has carefully grown its business over the past 20 years, making sure it can properly support the instructors it has before adding any more. This is another reason why LDC is so successful.
Naturally, it has taken a large amount of time and money to achieve this but it has been very rewarding, with LDC becoming one of the largest national driving school in the UK. However, our goal has never been to be the largest school, rather the best. Nobody has invested more and nobody can match our record, both in terms of getting people qualified or in ensuring they have a secure and decent income thereafter.
Call today on 07976 748836 or Email me to find out more
If you have any questions or to book lessons today, feel free to contact me