Part 3 Course : The ADI instructional ability test
About the Part 3 test
The Part 3 test requires you to give two half-hour driving lessons on subjects chosen by the examiner. The examiner plays the role of a pupil and whilst in that role, he or she tests your ability as an instructor by asking questions and making mistakes. In particular, the examiner will expect you to explain what you hope to achieve on the lesson (based on the situation outlined by the examiner before you start), give a briefing where required about the driving task you are about to teach, provide appropriate verbal support whilst on the move to aid the learning process, and to identify and deal with any driving faults that might occur. Your performance for each driving lesson will be graded from 1 to 6, with grade 4 and above being a pass. The minimum you need to pass Part 3 is a 4/4. Grade 4 is adequate, grade 5 is good and grade 6 is excellent.
Driving instructor training provided by LDC
Using our unique student centred open learning course, driving instructor training DVDs (about 12 hours of video footage), test guide, workbook, prompt sheets and colour briefings presenter, you will learn about the Part 3 test, the standards sought and the practical exercises you need to undertake to develop the skills to pass this test. The Part 3 Teaching Skills Workbook and DVD contains a comprehensive self-development programme of practical exercises to compliment the in-car training. The duration of the open learning course is around 40 hours.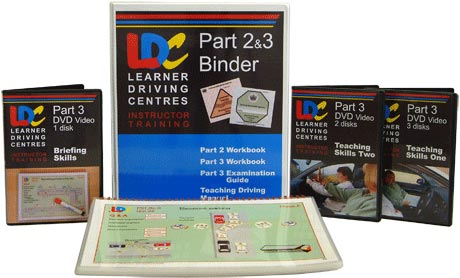 Part 3 - Briefings DVD video (2 hours of video)
PDI laminated colour briefings presenter
Part 3 - Teaching Skills One DVD video (2 disks, 4 hours of video)
Part 3 - Teaching Skills Workbook
Part 3 - Teaching Skills Two DVD video (3 disks, 6 hours of video)
Part 3 - Examination Guide
Teaching Driving Manual
This leads onto and integrates with a comprehensive practical programme of in-car training with your local LDC DVSA ORDIT qualified trainer. Again this in-car training would usually be spread over a number of sessions and be provided on a one-to-one basis, thus ensuring that quick learners are not held back or that those who need more time do not feel hurried. Fourty hours of in-car training is provided on a one-to-one basis as standard. However, you can choose to share your in-car training with another LDC student, in which case the training hours allotted would be doubled (i.e. increased pro-rata) to 80 hours. Up to a further 12 hours of free remedial one-to-one in-car training is available in the unlikely event that you should not pass first time. Therefore, you are potentially looking at over 100 hours of training for Part 3 in total.
Trainee Licence option
It may be appropriate to offer you a driving instructor trainee licence at this stage, on either a part-time or full-time basis to allow you to acquire additional experience training real learners. Not only does this help you prepare for the Part 3 exam, it also provides a means to earn an income whilst training. Whilst this experience is not essential to pass this final part of the qualifying driving instructor examination (the course itself is more than sufficient) it is a useful option to have.
At LDC our driving instructor package is the same whether you are a trainee or a fully qualified driving instructor, however, it is common for trainees to offer introductory lesson discounts when they first start to reflect the fact they are not yet fully qualified. Some driving schools make higher additional charges when you are a trainee. Please also note not all driving schools support the Governments trainee license scheme, for example driving schools such as the AA.
Pass rates
Last year, of those who completed their driving instructor training with LDC, 91% passed Part 3 of the qualifying exam within the three attempts allowed. The national pass rate for Part 3 tests taken in 2013/2014 as published in the DVSA Annual Report over all attempts was only 32.3%.
Please note if you fail three attempts at Part 3 or Part 2 the DVSA require you to start the qualification process again and not until 2 years have elapsed from passing Part 1.
What our students say
| | | |
| --- | --- | --- |
| Alex | Peter | Keith |
| | | |
| "Part 3 is where LDC comes into their own. The training was exceptionally well delivered and tailored to suite me as an individual, not one size fits all. It gave me the skills and confidence to pass first time." | "I trained with Red Driving School but I felt the training for Part 3 was inadequate so I turned to LDC. I qualified and was awarded a grade 5 on my first check test. I owe LDC a big thank you for all their help, support and belief in me." | "Having completed parts 1 and 2 of my ADI training with another large national driving school, I found myself struggling with Part 3 and decided to try LDC. What a revelation! The training was utterly professional and I duly qualified." |
Call today on 07976 748836 or Email me to find out more
If you have any questions or to book lessons today, feel free to contact me